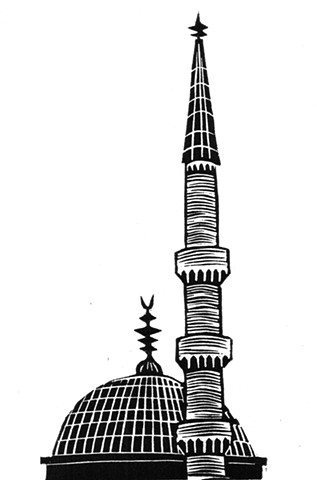 The Voyage of the Red Canoe
Book Illustration from Saving Nails
by Thomas R. Moore
Linocut
5" X 7"
2016
THE VOYAGE OF THE RED CANOE
Life can't be all that bad, I'd think from time to time.
Whatever happens, I can always take a long walk
along the Bosphorus.
~Orhan Pamuk, Istanbul
In the old dream I paddle my battered red canoe down the Bosphorus
from the Black Sea to the Marmara, past Emirgan, Rumeli Hisar,
and Bebek toward the Golden Horn. Here I first earned a living,
ate fresh figs, watched storks migrating, fathered a daughter
and a son. They anchor me to this strait. This is the city of their lives
cut short. I pass Cinzano umbrellas marking familiar cafés, köfte
aromas lingering over the water. I cross to Anadolu Hisar where
a potter twists earth into perfect vases, and a three-legged dog caroms
through the trees. Off Leander's Tower I shut my eyes and see my
children cavorting in the swell like dolphins. I hear taxis rattling
on the cobbles, tennis racquets beating a rhythmic thwack thwack
on the Robert College courts. The Black Sea current lifts and rolls
the yellow ferries crossing to Kadiköy, and a Bulgarian freighter thumps
north, Varna lettered on her stern. I paddle as a thin call to prayer
echoes from the minarets along Pamuk's consoling Bosphorus.
And then these questions: How can this city be so astoundingly
beautiful? Why are these sounds—a muezzin's call, a snapping
Turkish flag, a ship's horn—not the signs of an answerable god?
Thomas R. Moore